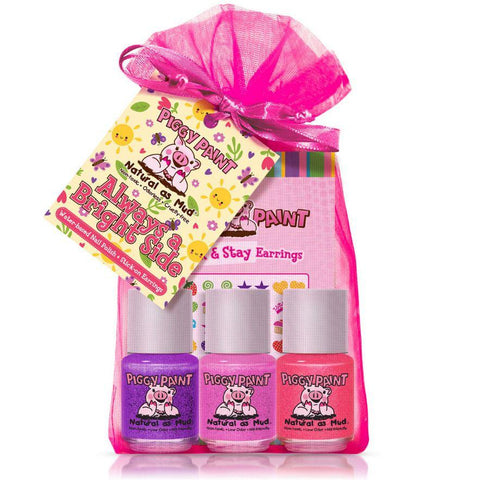 Piggy Paint Always a Bright Side Gift Set
Piggy Paint is a natural, eco-friendly nail polish for kids. Its non-toxic, hypoallergenic formula makes it safe to use and it dries to a hard, durable finish. Made in the USA, Piggy Paint is water based and virtually odorless, with no harsh, smelly chemicals. 
The Always a Bright Side Gift Set includes a sheet of stick on earrings and three 0.25 oz bottles of nail polish - Let's Jam, Havin' A Blast Nail, and Light of the Party.
Features:
Non-toxic
Virtually Odorless
Water-based formula
Hypoallergenic
Dries to a hard, durable finish
Cruelty-free
Does not peel
Safe for use during pregnancy
Nail polish made in USA
Stick and Stay Earrings made in South Korea
Directions: Wash hands with soap and water. Apply 2 -3 thin coats of Piggy Paint. Air dry 60 seconds. (Optional for best wear) Blow dry polished nails for one minute with hair dryer set on warm heat/low blower setting.