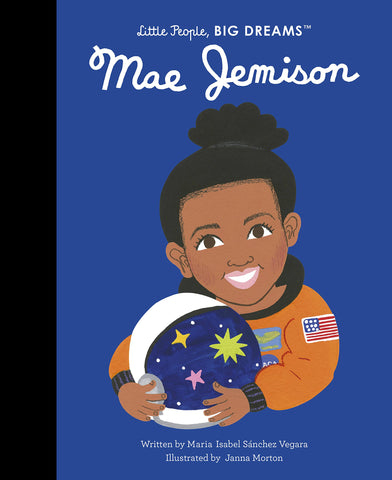 Little People, BIG DREAMS: Mae Jemison
The Little People, BIG DREAMS series explores the lives of outstanding people, from designers and artists to scientists and activists. All of them achieved incredible things, yet each began life as a child with a dream.

When Mae Jemison was a little girl, she dreamed of blasting off into space on a rocket ship. She was so excited as she watched the Apollo Moon landings, but she wondered... why weren't any of the astronauts women?

Mae loved science and was so bright that she started college at just 16, and was training to be a doctor by the age of 20. She joined the Peace Corps, using her medical knowledge to help people in countries all around the world. Upon returning to the United States, she was accepted into NASA's astronaut program. After hard work and training, in 1992 Mae became the first black woman to travel into space! 

This inspiring book features stylish and quirky illustrations and extra facts at the back, including a biographical timeline with historical photos and a detailed profile of the groundbreaking astronaut's life.
Written By: Maria Isabel Sanchez Vegara
Illustrated By: Janna Morton
Target Age: 5 - 8