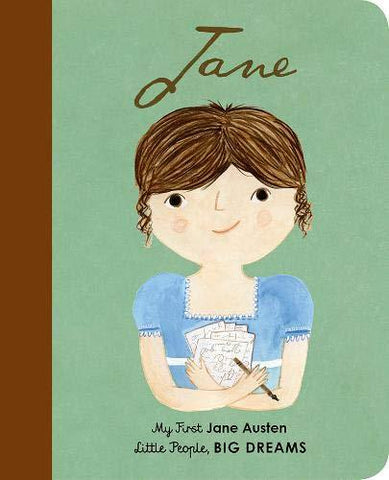 Little People, BIG DREAMS: Jane Austen Board Book
The Little People, BIG DREAMS series explores the lives of outstanding people, from designers and artists to scientists and activists. All of them achieved incredible things, yet each began life as a child with a dream.

Little Jane was born into a large family with seven brothers and sisters. She grew up reading and writing stories in the English countryside. As an adult, she wrote witty commentaries about landed gentry in a way that no one had ever done before, portraying young women who bravely made their own choices. These novels made Jane one of the most loved British writers of all time.

Babies and toddlers will love to snuggle as you read to them the engaging story of this fascinating writer, and will also enjoy exploring the stylish and quirky illustrations of this sturdy board book on their own.
Written By: Isabel Sanchez Vegara
Illustrated By: Katie Wilson
Target Age: 3 - 8