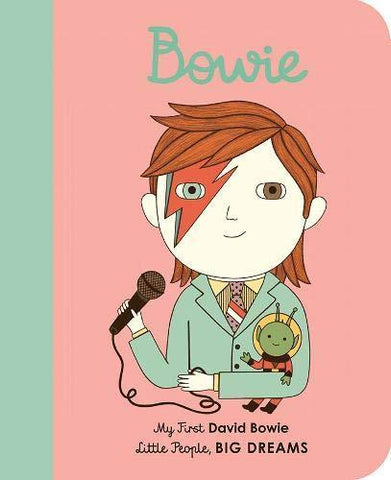 Little People, BIG DREAMS: David Bowie Board Book
The Little People, BIG DREAMS series explores the lives of outstanding people, from designers and artists to scientists and activists. All of them achieved incredible things, yet each began life as a child with a dream.

As a child, young David Bowie had a head full of songs and ideas. He was inspired by the pop and mod scenes in Britain to pick up the saxophone. After earning his stripes in some of the coolest bands in London, David splashed onto the solo scene. His songwriting talent and musical skill made him one of rock and roll's all-time greatest artists.

Babies and toddlers will love to snuggle as you read to them the engaging story of this fascinating star, and will also enjoy exploring the stylish and quirky illustrations of this sturdy board book on their own.
Written By: Maria Isabel Sanchez Vegara
Illustrated By: Ana Albero
Target Age: 3 - 5