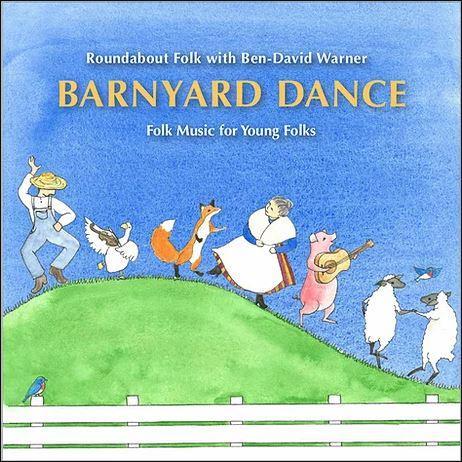 Barnyard Dance: Folk Music for Young Folk
This collection of cheerful children's folk songs was created by Roundabout to bring folk music into peoples' homes and inspire them to sing. Roundabout members Emma and Cecilia are sisters from Grand Rapids, Michigan who grew up singing together. They are accompanied by musician Ben-David Warner. 

Track Listing:

Click Go the Shears
Carrion Crow
I Heard the Bluebirds Sing
Froggy Went A-Courtin'
One Man Went to Mow
The Fox
Saginaw Michigan
Sweetly Sings the Donkey
Shadygrove
The Old Woman and the Pig
I'll Fly Away
The Fieldmouse's Ball
Fol-the-Day-O
Killy Kranky
Raggedy Man
Canaan Land
Dan Tucker
Let the Sun Shine Down on Me
Hopalong Peter
I Had a Little Rooster 
I'm Going Back to the Old Home
The Golden Ball
Barayna
Keep On the Sunny Side
Why Doesn't My Goose
Groundhog
Skip to My Lou
This Land is Your Land

Customer Reviews
Write a Review
Ask a Question
10/25/2022
KDubs

United States
Children's songs done well
I love this CD and so do my kids! Children's music done well is very hard to find. A must have for a family that appreciates good music for kids.
01/08/2022
Joseph B.

United States
Great albumn!
Barnyard Dance is such a fun album to listen to, from start to finish! I bought for my young niece but found it's become one of my favorites, too.
12/08/2021
PDB B.

United States
I like it! Boy-Howdy!
The CD came packaged well in a timely manner with no defects. I want to support talented people producing good clean music. I am disappointed with the choice of one song, Old Dan Tucker, on the cd and I choose to skip it because it says Our Lord's name in a casual way. There is no reverence in that, and I wish it had not been included on the cd.