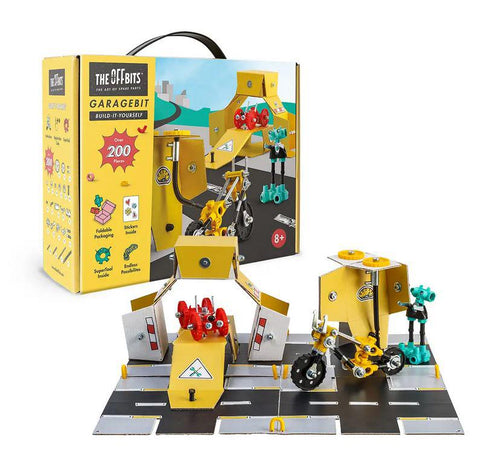 OffBits GarageBit Folding Suitcase Set
Combining familiar parts, cutting edge design and a 21st-century approach to collaboration, the OffBits system brings a unique new twist to classic construction toys. With the GarageBit Folding Suitcase set, you can assemble the nuts and bolts, and transform the OffBits cardboard box into an action-filled garage. The kit enables creating at least three different "out of the box" models and many more using your imagination and creativity!

The GarageBit kit includes colorful custom-made nuts and bolts, a detailed instructions booklet, foldable packaging, unique stickers, and over 200 pieces. It also includes a five-in-one SuperTool and a unique registration code so you can share your creation with an online community of creators.

Ages 6 & up.