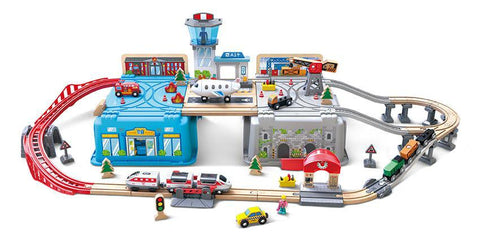 Hape Super Cityscape Transport Bucket Set
This complete train set from Hape lets you build your own little city! Unpack everything from the storage box, then use the lid and the box bottom to create a detailed metropolis for your passengers and cargo to move through with the Super Cityscape Transport Bucket Set. This set facilitates open-ended play to encourage creativity and inspire your little ones imagination to create their own stories.
Ages 3 & up
Product Details:
80 Pieces

A realistic crane with a magnetic hoist for moving containers
Includes includes rails, locomotive, carriages, airplane, airport tower and more
Compatible with all other Hape railway sets
PLEASE NOTE: Because of the size of this set, there is no shipping available outside of the United States and there is a flat shipping rate of $25 ($75 to Alaska, Hawaii & US Territories).