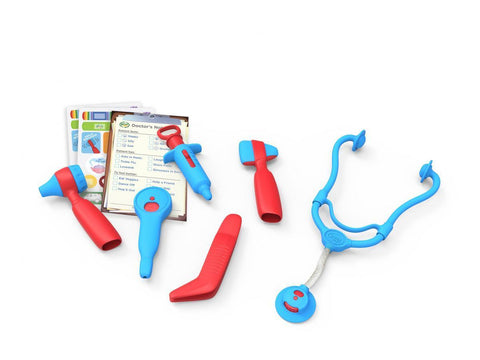 Green Toys Doctor's Kit
The Green Toys Doctor Kit comes with everything your little one needs to provide top notch medical care with an eco-friendly twist. This 9-piece set encourages motor skill development, imaginative play, and pro-social behavior, while also helping to ease anxiety about doctor visits by making the components of a check-up familiar and fun. 
In addition to two sheets of assorted stickers, the set includes all the classic tools - a stethoscope, reflex hammer, syringe, forceps, thermometer, and otoscope -as well as a doctor's notepad for tracking symptoms and suggesting treatment.
Ages 2 years & up
Product Details:
Manufactured in the USA
Made from 100% recycled plastic
No BPA, phthalates or PVC
Meets FDA food contact standards
Easy to clean and dishwasher safe